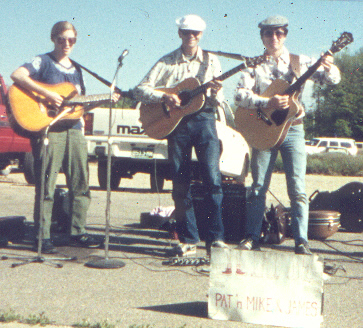 Pat 'n Mike & James was formed on the vernal equinox in 1982 as the result of the group's strong affinity for English and Irish folk music. Soon, however, the group wrote more original tunes, some of which still showed the folk influence. But, as time passed, other musical interests reared their heads and at the present time, the acoustical folk element often takes a back seat to serious rock rhythms and synthesizers.
Now heavily dependent on computer sequencing and overdubbing, P 'n M & J haven't performed live for years, prefering instead to record new material in their studio. To date they have completed six albums of original material largely influenced by Jethro Tull and Richard Thompson but also showing traces of blues, jazz, and various ethnic and avant-garde traditions. Their first album, Suzy Sparkles, was hailed by critics as "exceptional", "carefully arranged", and "tasty". It made the top 10 independantly produced album list at CKLN in Toronto. Pat 'n Mike & James produced a ten year anniversary retrospective made up of conversation and bits and pieces of songs and excerpts from Pat's collection of rehearsal and performance tapes.
Their latest album, due by the end of 2002, will deliver the P 'n M & J trademark of thoughtful arrangments and rich vocals.