At age 69, Shayn is having his third or fourth adolescence. He puts his many years of guitar playing to work in the New Church of Boulder Valley. where he was music director for many years.
In the beginning it was fun playing Del Shannon and the Kingston Trio, but then the Beatles came on the scene, Shayn entered a new realm of musical experience. His first band was really he and his cousin Pam playing Beatle songs. The Stinkbugs, they called themselves.
His next band, The Belfreez, was formed in 1965. Shayn remembers playing their first gig at the local Methodist church. What goes around comes around, they say.
Then, it was on to the Individual Needs from 1967-1968 playing at school dances and the YMCA.

Buffalo, NY in the early 70's saw the Quicksand Band quickly sink into oblivion. Too bad.
In the mid-70's Shayn went undercover as a country on-air personality at WWOL-Radio in Buffalo, NY. Jack Gillan was his persona. Listen to this aircheck from those days...
Many bands later, Men Without Pants made its debut to Boulder audiences and wowed with more than just knobby knees. MWP later took a backseat to the Backporch Symphony Orchestra.
Then, there were several of years with the smokin' Front Range Burners not to mention the popular dance band, The Mighty Planktones who sold out a Wednesday summer night at the Rock 'n Soul Cafe.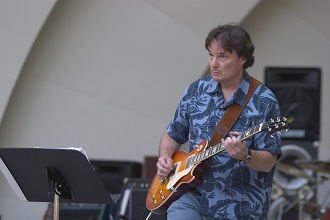 Shayn has assembled the Front Range's finest ensemble of musicians for his retirement celebration from the University of Colorado in June, 2015. Bei Mir Bist Du Schoen are Joe Grossman, Dan Organ, Trish Pottersmith, Greg Coffin, and Henrik Boes.
Then came a few more bands such as Caboose and the Boot Squad.
Shayn's 40 year collaboration continues with Joe Grossman in Pat 'n Mike & James. Be watching!
Enjoy some original music from Shayn...